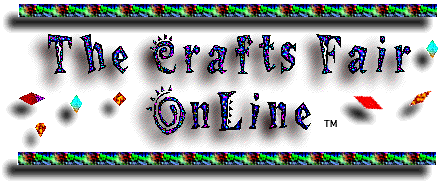 WELCOME
TO THE CRAFTS FAIR ONLINE
The Oldest And Largest Craft Directory On The Web




CELEBRATING 27 YEARS ON THE WEB
-- New sites added, Tuesday, November 28, 2023--




Stroll through the crafts sites with this random link.




Needlecraft | Dolls | Jewelry | Glass Crafts | Metal Crafts | Stuffed Animals | Home & Garden
Wood | Ceramics | Soap & Candles | Beading | Holidays | Kid's Stuff | Decorative Painting | Papercraft
Miniatures | International | Craft Patterns | Fun Crafts | Wearable Craft | Collectables





Group Shows, Craft Malls And Craft Organizations




Supplies, Materials, Plans And Kits.




Books And Magazines Of Interest To Crafts People.




Shareware, Freeware And Demo Software For Crafts People.




Guides To Real World Craft Shows By Region.






Create a FREE web page to Announce your crafts event.




Craft Projects, Ideas and Instruction




Share your craft questions, answers, suggestions and opinions.




Three Book Stores, No Waiting.




All the information and resources you need to create your own crafts web site!









---

---On The Web Since October 1995---



Needlecraft | Dolls | Jewelry | Glass | Metal | Stuffed Animals | Home & Garden
Wood | Ceramics | Soap & Candles | Beading | Holidays | Kid's Stuff | Decorative Painting | Papercraft
Miniatures | International | FunCrafts | Wearable Craft | Collectables

Main Page | Group Shows | Craft Supplies | Craft Patterns | Publications
Software | Show Guides | Ideas & Instruction | Events & Shows
Craft Books | Bulletin Boards | Web Development Center | Craft Business Resources | Food Booth
Web Survey | Crafts Quiz | About Us
Add Your Site



This site designed and maintained by Steve Robinson. ©S.P.Robinson 1995-2023